It has been one of the busiest fire seasons we've experienced in many years. The wet winter led to huge amounts of combustible materials. And these tinder dry grasses and landscapes burnt hot and fast. 
These fires proved incredibly challenging, to our Overberg Fire Services, to landowners and to the Greater Overberg Fire Protection Association team. In fact, I met fairly regularly with the team throughout the fire season, and saw how, as the season crept on, it really took its toll on everyone involved.
Here is our digital annual report. It's a snapshot of the 2021/22 year. In order to make it easy for you to read, we've divided it into three sections:
– goFPA membership
– Activities of the past year 
– And the Fire Season
We hope you enjoy the read.
Dr Paul Clüver
Chairperson: Greater Overberg Fire Protection Association
goFPA MEMBERSHIP AREA SUMMARY
THEEWATERSKLOOF
54%
(175 511 ha)
OVERSTRAND
61%
(103 994 ha)
SWELLENDAM
54%
(206 377 ha)
CAPE AGULHAS
68%
(234 233 ha)
Fee Structure
PROPOSED goFPA FEE SCHEDULE: 1 April 2022 – 31 Mar 2023
Municipalities, Parastatals e.g. Eskom, Telkom, State land
R 2 407
All other
R 602
Land owner and governmental conservation areas
e.g. CapeNature, OTB. Farm portions with the same land manager/owner/lessee and trading under the same name are recognised as one member and therefore pay one collective fee.
Industrial or Developments (Gated estates & Resorts)
Parastatals: Eskom, Telkom, Sanral, Transnet – as per agreement. This might be subjected to certain umbrella negotiations
Please note that the fees above exclude VAT at 15 %.
Our 2021-22 Board members are:
Chairperson
DR PAUL CLÜVER
(Wine and apple farmer, De Rust Estate & philanthropist)
Member
JO NESER
(Executive at Cliffe Dekker Hofmeyr, Olive farmer – Van Der Stel Pass area)
Vice-Chair
CHRIS MARTENS
(Sondagskloof FMU and conservationist)
Member
JOSE DE KOCK
(Chair of Napier Agri Association, represents the Napier area)
Member
ALBRECHT SMUTS
(Ruggens FMU leader and wheat farmer)
Member
JOHAN TALJAARD
(Agulhas National Park, Slanghoek)
#PREPARATION
PRE-FIRE SEASON HIGHLIGHTS
Training OF MEMBERS
In the past  financial year, training once again gained momentum, as more events could be planned as COVID-related lockdowns eased. The bulk of the training took place between October 2021 and February 2022. In total 444 people received training across the Overberg.
Burning permits
issued by municipalities
527
SITE VISITS & INSPECTIONS
11
MEMBERS SUPPORT
Overstrand goFPA intern: We would like to thank Lester Smith, Fire Chief of Overstrand Fire Services, for integrating Mitch Africa (goFPA Groen Sebenza intern) into their team. The cooperation and joint projects are improving wildfire-risk reduction in the region.
Western Cape Umbrella Fire Protection Association (WCUFPA): Our Manager, Louise Wessels, has been voted as the new Chairperson of the WCUFPA. We are encouraging support for large scale-controlled burns to reduce high-wildfire risks. We are also promoting a positive working relationship between FPAs and their Fire Services.
Events:
Overstrand Fire Station opening and vehicle handover
Hermanus Fire Station opening
ICS USAR Simulation Attendance: A brilliant opportunity offered through the Western Cape Government. Our Project Coordinator Pieter Rossouw participated and is on his way to obtain another ICP qualification.
Risk-reduction effort highlights:
– Grootbos prescribed burn planning and execution: Grootbos Nature Reserve has short-, medium- and long-term plans to address their wildfire risks, especially to protect their infrastructure, biodiversity and risk of spread. Special note of thanks to the landowner, Overstrand Fire Services, Eskom and neighbours.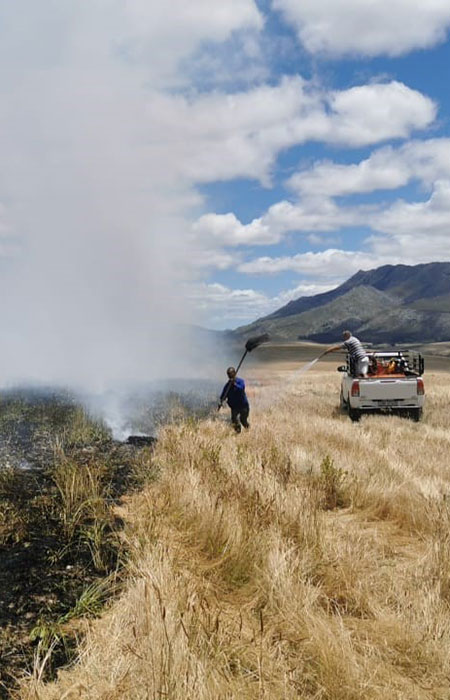 Awareness efforts
Radio interviews (Radio Overberg & RSG)
Farmers' association meetings
Various presentations to stakeholders
Grainfire social media support campaign
Winter preparation, pre-fire season actions and a fire season campaign
Wildfire updates during fire season, large fires and controlled burn information.
Risk-reduction effort highlights
Babilonstoring FMU meeting
Rusty Gate / RSE Common fire-break project
Wildekrans inspections and fire-break planning
Spookfontein prescribed burn
Knoflokskraal strategic fire-break

Two fire-attack plans funded by Santam for Tesselaarsdal and Highnoon/ Kaaimansgat.
(These areas were identified prior to the 2021/22 fire season. Hover over the map and click on the fire icon to see details on the highlighted area. We will now build on these identified areas for the next fire season.)
Communications platforms: A look back
Our goFPA digital platforms experienced strong growth over the past financial year. Aside from ongoing communications via these online platforms, we also ran a number of media campaigns, with a focus on grain farmers in the Overberg, and being wildfire ready ahead of the fire season. Here are some of the highlights of the past year.
We would like to acknowledge LoveGreen for the creative support. Full report here.
MEDIA ARTICLES & FEATURES
Cape Argus & iol.co.za: (January 2021): Kleinmond fire
News24: (January 2021): Kleinmond fire
Langeberg Bulletin (8 November 2021): Reduce wildfire risks this grain season
Suidernuus (6 December 2021): How to be wildfire ready come December
Hermanus Times (December 2021): Tips to protect the Overberg against wildfire
Village News (December 2021): Tips to protect the Overberg against wildfire
ODM news (December 2021): Tips to protect the Overberg against wildfire
Overstrand news (December 2021): Tips to protect the Overberg against wildfire
RSG (15 November 2021): Grain campaign in the Overberg
Radio Overberg (12 November 2021): Grain campaign in the Overberg
Farmer's Weekly (November 2021): Grain campaign in the Overberg
Cape Agulhas Municipality news (3 November 2021): Grain campaign in the Overberg
Netwerk24 (February 2021): Barrydale brand
Facebook
18 689 followers
(GROWTH: 21%)
Twitter
2 816 followers
(GROWTH: 4%)
Instagram
1 292 followers
(GROWTH: 7%)
FACEBOOK ENGAGEMENT
417.2k Reach
189.9k Engagement (22.8k reactions, 2.9k comments, 4.3k shares, 2.8k link clicks )
#FIRESEASON
2021/22 fire season
The impacts and effects of the past fire season are still fresh in our minds and that of the landowners and Fire Services. 
We have summarised the major fires for this report. When writing up this report, the long hours and many challenges – for everyone involved – came flooding back. Large areas were affected. But it was so much more than that: towns, lives, businesses and livelihoods all felt the brunt of the wildfires this season. Most of these fires were battled WITH the support of landowners. The leadership and networks of our FMU leaders were invaluable and very much appreciated.
Barrydale (9 fires)

0.8%

0.8%

Botrivier (50 fires)

4%

4%

Bredasdorp (90 fires)

8%

8%

Caledon (165 fires)

14%

14%

Gansbaai (91 fires)

8%

8%

Genadendal (7 fires)

0.6%

0.6%

Grabouw (269 fires)

23%

23%

Greyton (12 fires)

1%

1%

Hermanus (187 fires)

16%

16%

Kleinmond (43 fires)

4%

4%

Napier (7 fires)

0.6%

0.6%

Riviersonderend (11 fires)

1%

1%

Stanford (41 fires)

3%

3%

Struisbaai (4 fires)

0.3%

0.3%

Suurbraak (5 fires)

0.4%

0.4%

Swellendam (124 fires)

10%

10%

Villiersdorp (70 fires)

6%

6%
goFPA VELD FIRE INCIDENTS MAP
Hover over the map and click on the fire icon for more information on the wildfire incident, including the date of the fire and a description of the fire.
The 2021/22 fire season burn scar
BURN SCARS MAP
Click on each tab above the map to see details of the burn scar in the region, including the date of the fire, and the number of hectares burned.
The spotter plane flew 146 hours between December 2021 and March 2022 and the helicopter flew 191 hours over that same period. February 2022 was the busiest month, with a total of 141 hours flown.
Teams dispatched between Dec 2021 – March 2022: 81% provided air and on-the-ground support, and 19% provided just air support.
The preparations we made leading up to the 2021/22 Fire Season were critical and effective. The Annual Risk Planning joint working sessions have focused both our landowners and Fire Services on risk reduction and on an effective response. We will continue that work and, with the support of the Fire Services, we'll work to ensure all stakeholders remain motivated and prepared. The focus is also on reducing the Overberg's high-wildfire risk areas.
We are always looking to improve – and we aim to do just that, especially regarding our work during wildfires. This includes getting the best information possible on the status of the fire, where it is burning, to issue or facilitate the issuing of warning messages and to assist to get the right resources to the right place.
We are always willing to listen to input and admit when we can do better. The support received from stakeholders have been commendable – we thank you.
Louise Wessels
Manager: Greater Overberg Fire Protection Association
Tel: +27 (0) 28 425 1690 | Fax: +27 (0) 86 585 2348 | Email: info@overbergfpa.co.za
Address: Fire Station, Long Street, Bredasdorp