There's one word 

that

 stands out to summarise this past year: cooperation. We've seen strong cooperation within our various Fire Management Units – leading to quicker and more effective wildfire suppression. We've also seen our FMUs cooperate more closely with Fire Services across the Overberg. At a district-level, stronger collaboration emerged between the Overberg and districts such as the City of Cape Town. And even at an international level, we enjoyed excellent cooperation through our Women In Fire Training Exchange – providing the goFPA with international exposure. 
These successes are only possible through our stakeholders, including our members, the Fire Services, our management team and of course our goFPA Board, led by Chairman Dr Paul Clüver. In fact, Dr Clüver has served at the helm of our organisation for the past eight years. Here he has guided us, helping the goFPA to become a sustainable member organisation. He has brought communities together across the Overberg, all in name of integrated fire management. And he has offered his insight to our goFPA team and members when we have called on him.
At our recent AGM, Dr Clüver finally stepped down from this role, and he will be sorely missed. We thank him for his years of service to the goFPA and to the Overberg.
Louise Wessels
Manager: Greater Overberg Fire Protection Association
Tel: +27 (0) 28 425 1690 | Fax: +27 (0) 86 585 2348 | Email: info@overbergfpa.co.za
Address: Fire Station, Long Street, Bredasdorp
"Our members have truly taken a lead in fire preparedness this past year. We've also seen landowners communicating well with each other and with the Fire Services via goFPA channels during wildfires. There's no doubt that this cooperation helped to prevent and contain wildfires this past season."
For our management team, capacity building and stakeholder engagement have been top priorities. We've focused on strengthening existing partnerships and forging new alliances. And these have facilitated knowledge sharing, resource pooling and joint initiatives.
Looking ahead, the focus is on continuing to advance our fire-management strategies and expand our outreach. We'll invest even more in training, and will continue to engage with communities to enhance our collective resilience to fire hazards.
To everyone involved in the goFPA, thank you. Together we can continue to make a positive difference in fire management and prevention, to bring about a safer and more resilient Overberg.  
In the meantime, enjoy our 2022/23 digital annual report.
Dr Paul Clüver
Chairperson: Greater Overberg Fire Protection Association
goFPA MEMBERSHIP AREA SUMMARY
THEEWATERSKLOOF
54%
(169 411 ha)
OVERSTRAND
62%
(106 407 ha)
SWELLENDAM
54%
(206 876 ha)
CAPE AGULHAS
69%
(237 599 ha)
Fee Structure
 goFPA FEE SCHEDULE : 1 April 2024 – 31 Mar 2025
Municipalities, Parastatals e.g. Eskom, Telkom, State land
R 2 407
All other
R 602
Land owner and governmental conservation areas
e.g. CapeNature, OTB. Farm portions with the same land manager/owner/lessee and trading under the same name are recognised as one member and therefore pay one collective fee.
Municipalities:
CAM, SWELL, TWK: R27 777  | Overstrand: R25 555
Industrial or Developments (Gated estates & Resorts)
Parastatals: Eskom, Telkom, Sanral, Transnet – as per agreement. This might be subjected to certain umbrella negotiations
Please note that the fees above exclude VAT at 15 %.
Changes to the goFPA's firebreak rules
At our most recent AGM, members voted for amendments to Section 7 of the rules of goFPA, which deals with the minimum requirements of firebreaks:
Land owners on whose land a wildfire may start or burn or from whose land it may spread must prepare and maintain a firebreak on his or her side of the boundary between his or her land and any adjoining land.

goFPA promotes the use of strategic firebreaks. Such firebreaks are not necessarily located on a property boundary, but rather optimally positioned to provide the best possible chance of stopping the spread of a fire.
The firebreaks:
Must be wide enough and long enough to have a reasonable chance of preventing a wildfire from spreading to or from neighbouring land.

Must not cause soil erosion.

Must be reasonably free of inflammable material capable of carrying a wildfire across it.

Should be at least 2.5 times the height of the adjacent flammable vegetation, with a minimum width of 2 metres.
Our 2023-24 Board members are:
Chairman
JO NESER
(Former Executive at Cliffe Dekker Hofmeyr, Olive farmer - Van Der Stel Pass area)
Member
LESTER SMITH
(Overstrand Local Municipality)
Vice-Chair
CHRIS MARTENS
(Sondagskloof FMU and conservationist)
Member
JOSE DE KOCK
(Chair of Napier Agri Association, represents the Napier area)
Member
ALBRECHT SMUTS
(Ruggens FMU leader and wheat farmer)
Member
HERMAN VAN DYK
(Overberg Wealth and Risk Management)

Fire Protection Officer
REINARD GELDENHUYS
(Overberg District Municipality)

#PREPARATION
PRE-FIRE SEASON HIGHLIGHTS
Training OF MEMBERS
In the past  financial year, we focused our training efforts on those areas in the Overberg that highlighted a need for training. We'll adopt this same strategy in the next financial year. In total, 274 people received training during the year. 
Women in Fire Training Exchange: 
The goFPA and the Overberg District Fire Services hosted the first Women in Wildfire Training Exchange (WTREX) programme in South Africa. This aimed to promote the active involvement of women in wildfire management and create a platform for knowledge sharing. It also gave the goFPA an international platform to showcase our work. 
EVENTS
Launch of Wortelgat activity hall
Opening of Caledon Fire Station
TWK Wildfire Information Day
Wildfire debriefs – Hangklip & Stanford fires
Database management
The goFPA management team updated our database of goFPA members and FMUs. Although a long process, it has proven invaluable to ensure we have accurate information to communicate with members, especially in fire season.
FMU leadership
FMUs are taking ownership of coordinating farmer support, and sharing information, with wonderful success. There's a renewed focus on early detection, reporting and response. We hosted our first district-wide goFPA FMU leaders' meeting in August 2022. Here we looked at how landowners can be better supported.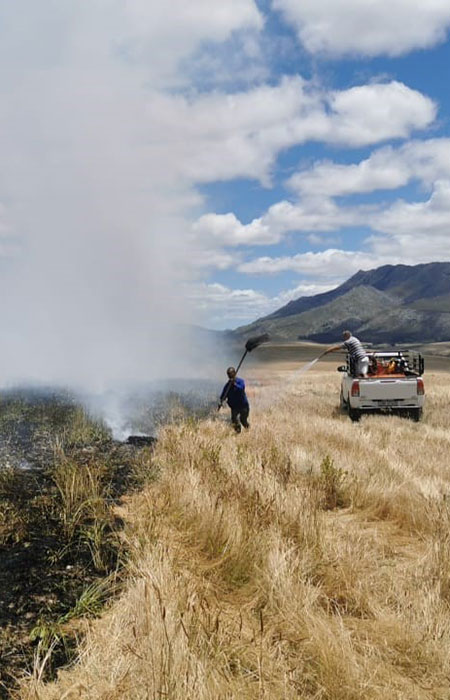 Emerging FMUs
Malgas and Tesselaarsdal serve as prime examples of exemplary leadership and community members taking responsibility. They proactively engaged with us, enhancing their preparedness for fire seasons to mitigate risks.
Burning permits
issued by municipalities
361
Stakeholder engagement
The goFPA team dedicated meetings to controlled-burn planning and wildfire briefings for landowners – and these enjoyed excellent attendance. Stakeholders are demonstrating a better understanding of their responsibilities and a renewed commitment to integrated fire management. 
Risk-reduction effort highlights
Volmoed field risk assessment visit

–

control burn (heaps), waterpoints, access

Camphill emergency evacuation meeting

Pearly Beach firebreak planning

Grootbos/Bellavista/Southern Blooms risk-reduction planning

Firebreak discussion Wortelgat area

Firefighting trailer handover to Hagelkraal FMU

Burn plan discussion

–

Spookfontein

Strategic firebreaks discussion – Spookfontein and neighbours

Several engagements with CapeNature re risk reduction

Harold Porter Botanical Garden risk-reduction project planning

Ertjiesvlei neighbours controlled burn planning

Blesberg controlled burn

Active involvement in the revision of the Overberg Disaster Risk Workshop

Wildekrans Firebreak and Alien Management Planning

Breederiver Estuary Landowner Engagement

Active involvement in several farmers' association meetings

 
Communications
platforms: A look back
We continue with our regular feedback to our members via our newsletters, and by sharing warnings and weather data when required. We also supply quality and informative Incident Commander updates to our members during fires.
Our goFPA social media platforms continue to show growth as we use these platforms to inform our members and followers of relevant news and updates. 
We would like to acknowledge LoveGreen for the creative support.
Communications campaigns
Our Fire Season campaign:
This was well received and shared.
Invasive Alien Species campaign:
As part of our risk-reduction efforts, we focused on providing awareness on the integration of alien invasive species management and wildfire management. This included a campaign on our digital platforms and shared with our media friends.
ACQUISITION
2022 vs 2023 (% change)
MEDIA ARTICLES & FEATURES
News24 (March 2023): Controlled burn in Betty's Bay
Overstrand Municipality (March 2023): Controlled burn in Betty's Bay
Cape Talk (February 2023): Firefighters fight multiple blazes
Village News (December 2022): It's fire season, are you prepared
Landbouweekblad (Desember 2022): Brand seisoen: Berei so voor
AgriAbout (November 2022): Invasive plants reduce the Overberg's resilience to wildfire
Hermanus Times (November 2022): Invasive plants reduce the Overberg's resilience to wildfire
CAM Newsletter (November 2022): Invasive plants reduce the Overberg's resilience to wildfire
Overstrand Herald (November 2022): Invasive plants reduce the Overberg' resilience to wildfire
Gansberg (November 2022): Invasive plants reduce the Overberg's resilience to wildfir
ODM Newsletter (November 2022): Invasive plants reduce the Overberg's resilience to wildfire
Hermanus Times (May 2022): Hermanus fire house opens
PARTNER FOCUS
Kogelberg Biosphere Reserve (Securing water: Feb 2023)
R-Space: (FAQs; December 2022)
Kogelberg Biosphere Reserve (Protecting nature; July 2022)
Facebook
19 148 followers
(GROWTH: 4.4%)
Twitter
2 823 followers
(GROWTH: 0.2%)
Instagram
1 398 followers
(GROWTH: 9%)
FACEBOOK ENGAGEMENT
177 k Reach
#FIRESEASON
2022/23 fire season
We experienced one of the quietest fire seasons in years, thanks to above-average rainfall. This welcome deviation provided relief to both residents and authorities, minimising the destruction of natural resources and infrastructure. 
 However, we still experienced some challenging fires during the season. The Akkesdisberg fire stands out as particularly challenging. The fire spread rapidly, necessitating a coordinated and determined response from fire-fighting teams.
Our thanks to the cooperation with landowners during the season, who collaborated closely with authorities. Fire-fighters, local authorities and residents worked together seamlessly, which played a vital role to manage and extinguish wildfires. 
Cape Agulhas (32 fires)

4%

4%

Swellendam (74 fires)

10%

10%

Overstrand (234 fires)

31%

31%

Theewaterskloof (407 fires)

55%

55%
goFPA VELD FIRE INCIDENTS MAP
Hover over the map and click on the fire icon for more information on the wildfire incident, including the date of the fire and a description of the fire.
The 2022/23 fire season burn scar
BURN SCARS MAP
Swipe right to see details of the burn scar in the region, including the date of the fire, and the number of hectares burned.
Our sincere thanks once again to our members, Fire Services in the Overstrand and Overberg, our stakeholders and partners who we work with and our goFPA Board for their support. Only by working together can we address the threats of wildfire through integrated fire management.