SUPPORT the #firefighters battling the Overberg Fires  
WELCOME TO THE HOME OF THE
GREATER OVERBERG FIRE PROTECTION ASSOCIATION
registered Fire Protection Association of the Overberg
goFPA members: You're invited to our Annual General Meeting.
We'll be discussing:
– Financial performance and the budget for the new year;
– The proposed fee structure for 2019/20;
– Changes to the Constitution and the election of a new board;
– Our guest speaker, John Smit, will shed light on how landowners can protect themselves from liability.

The date:

Thursday, 30 May


The time:

13:30 for 14:00


The place:

Caledon, the NG Church (Wes gemeente)
Members: No need to RSVP. We look forward to seeing you there.
GO fire prevention
The Greater Overberg Fire Protection Association (goFPA) helps land users predict, prevent, manage and extinguish wildfires. Wildfires move through landscapes – destroying property, livelihoods, biodiversity and sometimes even lives.
It's our job to help you.
The fire season has come to an end. That means it's time to plan for the next fire season. Now we work with our members to assess wildfire risks, and then find ways to reduce the risks.
Landowners also decide what training is needed for team members. The goFPA team then arranges the necessary training.
All the while we remain on high alert: it's still quite dry in the Overberg, and fires remain a threat, even in these winter months.
FIRE DANGER INDEX
21 May 2019
Bredasdorp

49%

49%

Caledon

41%

41%

Gansbaai

47%

47%

Grabouw

36%

36%

Hermanus

42%

42%

Kleinmond

43%

43%

Swellendam

46%

46%

Villiersdorp

33%

33%
See the 3-day SAWS weather forecast for Grabouw, Hermanus, Cape Agulhas and Swellendam, including the Fire Danger Index per day here:
3-DAY SAWS WEATHER FORECAST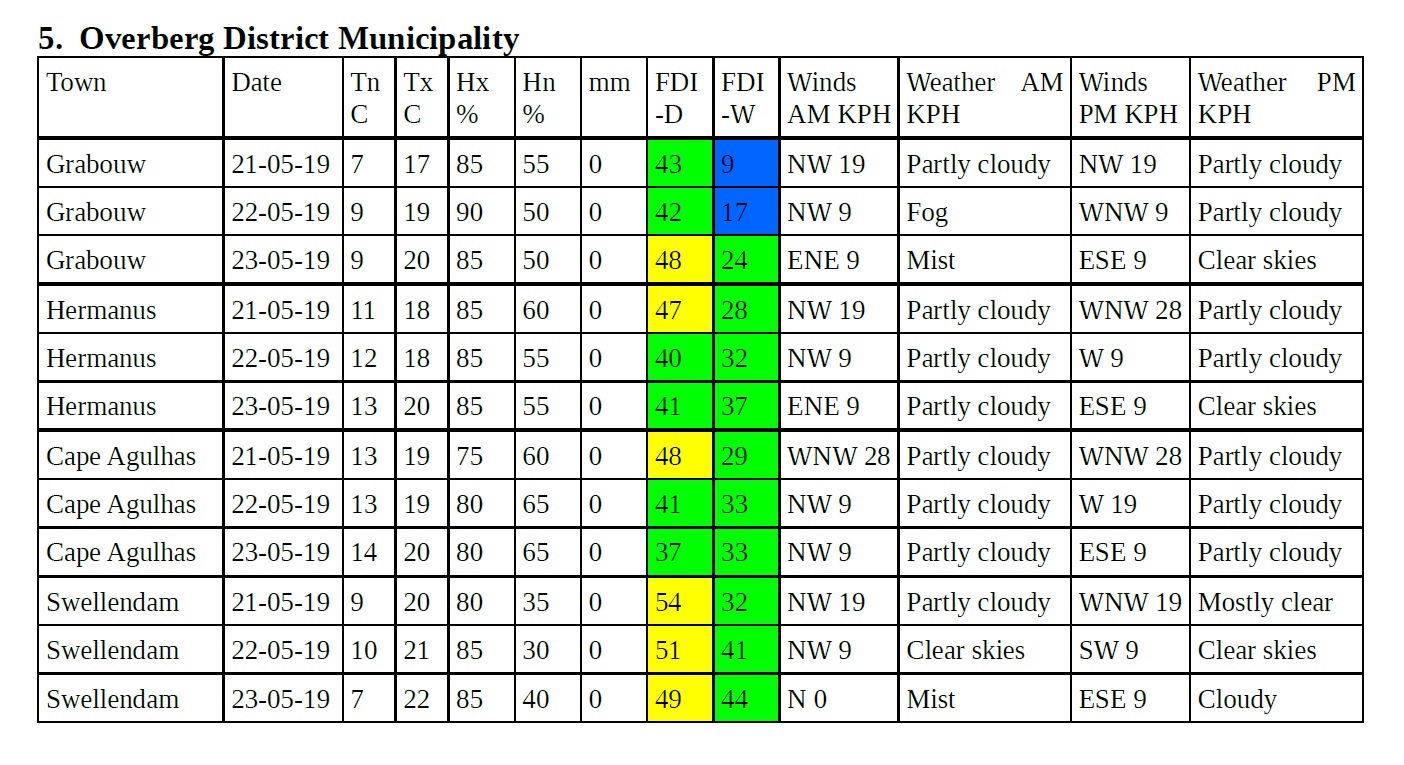 Wildfires in the Overberg
If any fires flare up in the Overberg, we'll find out about it soon, and let you know. We constantly update our Facebook page – so check our feed here for the latest fire info. You can let us know if you spot any wildfires – phone us, or message us on social media and we'll pick up on it.
"There's so much knowledge across the landscape on how to fight wildfires. And no one knows the land better than a landowner. So as the goFPA, we work with these existing strengths, to support integrated fire management and coordination."
Louise Wessels, Manager; Greater Overberg Fire Protection Association
The goFPA helps land users to practice Integrated Fire Management on their land. Through the goFPA, landowners in the Overberg, at the tip of Africa, can now work strategically with partners to better prevent wildfire, and react quicker and more effectively to suppress wildfire.
The goFPA operates across the Overberg area in the Western Cape of South Africa, currently covering more than 660,000 hectares (about 60% of the district).
WHAT WE DO
The Greater Overberg Fire Protection Association actively works to prevent and control wildfires during fire season, over the hot summer months. A lot of our work takes place before the fire season even starts. We help land users in the Overberg to meet their legal requirements. We provide training to land users and their teams and we facilitate fire management planning, like helping with firebreak planning and the signing of agreements between neighbours. All of this forms part of our Integrated Fire Management assistance.
BECOME A goFPA MEMBER
Land users sign up to the goFPA voluntarily. Signing up is easy.
Members pay an annual fee determined by the size of the property which is used to enhance legal compliance and integrated fire management activities.
HOW CLIMATE CHANGE WILL IMPACT
Globally, 2016 was the warmest year on record. That was followed by 2015 and 2017 respectively.
And now 2018 is on course to reach the same levels as the past four years.
Experts believe temperatures may already have passed levels that human civilization has ever experienced before.
The Overberg, the area at the southernmost tip of Africa, won't escape this trend. On the contrary, our region can expect warmer temperatures, more winter droughts, and more heavy rainfall in April and September.
WHAT'S HAPPENING IN OUR WORLD
Elgin Valley, 28 January 2019: A fire that started Thursday (24 January 2019) in the Van der Stel's Pass close to Botriver has captured the essence of community spirit. The fire has brought farmers, local companies and fire-fighting authorities together in what has been a five-day intensive battle to control the blaze.
What can you do to make your home as safe as possible against a potential wildfire? Home owners have learnt valuable lessons from the 2017 Knysna fires. And these lessons are now guiding fire management in South Africa. As a home owner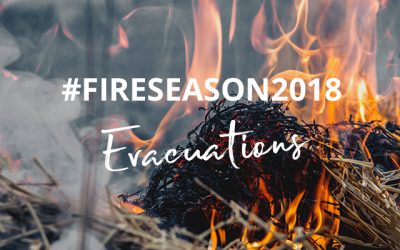 This is surely one of the most difficult and stressful events in a person's life: It's time to evacuate your home, as a wildfire moves closer. This is a time of great stress – and mistakes can be made as a result. According to the Overstrand Municipality's Fire Chief, Lester Smith, in an event like this
SUPPORT THE #FIREFIGHTERS
BATTLING THE OVERBERG FIRES NOW.
All funds raised will SUPPORT fire-fighters battling the overwhelming Overberg fires. ALL monies raised will be: – used for making the fire lines more bearable, including; – cellphone airtime to talk to their families at home; – foodstuff like ice to keep their drinks cold, that warm meal to supplement their ration packs, and any other essentials. goFPA is a registered PBO.
HOW TO HELP OUR FIRE-FIGHTERS:
SOUTH AFRICA
Donations are made through the secure PayFast system.
HOW TO HELP OUR FIRE-FIGHTERS:
INTERNATIONAL
Donations are made through the secure PayPal system.
SNAPSCAN