Looking Back
Introduction: Counting the costs of the fire season
The 2018/19 fire season was one of the most difficult ever experienced in the Overberg. During the season, we had to fight 20 major wildfires – which proved to be very damaging, and very costly. Not only did we lose lives and infrastructure to some of these ferocious fires; but the environmental damage was also immeasurable.
It was a difficult and traumatic time for fire-fighters and Overberg residents alike.
However, we also learned important lessons during this time. We were reminded how important it is to work together. Many of these fires would have created EVEN MORE damage, were it not for our goFPA members and partners: our farming community, our corporates and our conservation agencies.
It captures the role of the GoFPA, as the support and communications channel bringing these partners together.
From the GoFPA team, thank you for all your help during this extreme season. In this report, we look back on the season and its impact. And we look forward to how we can start preparing ourselves now already for the next fire season.
The 2018/19 fire season burn scar
HECTARES BURNED
| | | |
| --- | --- | --- |
| DATE | HECTARES | PROPERTY NAME |
| NOV 2018 | 43 | |
| Nov 2018 | 1 288 | Platbosriviers / Spitskop |
| DEC 2018 | 21 | |
| DEC 2018 | 4 722 | Waenhuiskrans / De Mond |
| DEC 2018 | 1 867 | Riviersonderend / Die Poort / Tierhoek |
| DEC 2018 | 5 043 | Bergfontein |
| JAN 2019 | 537 | Fisherhaven |
| JAN 2019 | 1 438 | Hermanus |
| JAN 2019 | 1 438 | Franskraal / Uilenskraalmond |
| JAN 2019 | 86 | |
| JAN 2019 | 9 915 | Bettiesbaai / Pringlebaai / Rooiels |
| JAN 2019 | 13 048 | Grabouw / Elgin |
| FEB 2019 | 21 | |
| FEB 2019 | 43 | |
| FEB 2019 | 2 318 | Steenboksberg |
| FEB 2019 | 86 | |
| FEB 2019 | 4 989 | Franschhoek |
| FEB 2019 | 343 | Napier / Nuwerus |
| FEB 2019 | 21 | |
Aerial suppression: A busy season for our pilots
More than 6.7m litres of water were used during our aerial fire suppression efforts between 1 Dec 2018 – 31 March 2019. 3% was used by the Bomber and 97% was used by the Chopper.
There were 6552 overall drops in the Overberg by our aerial resources between 1 Dec 2018 – 31 March 2019. 1% of the drops were made by the Bomber and 99% of the drops were made by the Chopper.
(click on the map to enlarge it)
A timeline of the fire season
More than 30 wild fires burned during the season. Around 20 of these were very damaging and very costly, with many fires burning across more than one municipal district.
The major fires of the 2018/19 fire include:
<! ========= Cool Timeline Free 1.8 =========>
Timeline
24 FEB – NAPIER
This fire started near the Bloublokkies farm just outside Napier, and following several flare-ups, headed towards the Sandy's Glen area. With extreme effort and several "nearly contained moments", the fire was prevented from reaching the Napier Mountain, but did jump the Elim road. The head was stopped before reaching Fairfield farm with the support of professional ground crews – Enviro Wildfire Services and NCC Wildfires. The right flank had to be stopped on the R316, just outside Napier, with a burnout. The fire below the mountain (ignition point) was contained by doing two burnouts. The dense alien vegetation, hot weather conditions and very dry veld made for a very challenging fire. The wind was in our favour and allowed the strategy to work.
18 FEB – SHAW'S PASS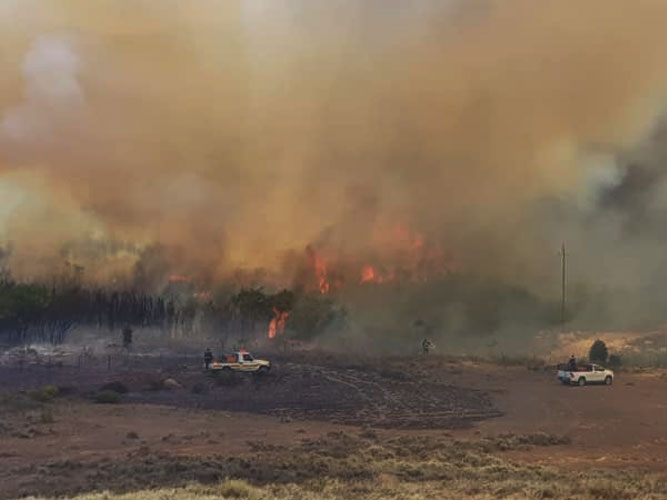 This wildfire was reported at the bottom of Shaw's Pass (southern side) just after 17:00. In extremely windy conditions, local farmers and the Fire Services combined their fire-fighting efforts. After two days of intense efforts to limit the damages and the disastrous spread of this wildfire, a burnout operation was launched. Two choppers, landowners and Fire Services, plus the Bredasdorp Working on Fire team fought this one.
18 FEB – NUWEDAM
Nuwedam fire (Tierfontein, Baardskeerdersbos area). Dense vegetation, proximity to homes/infrastructure and "fire season-weather" made this fire a 10-day battle. Containment was reached more than once, only for changing weather conditions to cause spread again. Landowners continued to use heavy construction equipment (excavator) to create access and control lines. Burnout operations and active fire-fighting were required to extinguish this fire. It was an integrated response with the full commitment from the landowner and additional support provided by his neighbours.
17 FEB – FRANSCHHOEK
The Franschhoek fire (also known as the Mooiwater fire), started on 17 February, and lasted several days, with huge ecological damage which was suppressed at huge cost. Homes were threatened and this wildfire had great potential to spread into other areas like Jonkershoek. Good inter-agency cooperation played a role in preventing further losses.
24 JAN – GOEDVERTROUW
The Goedvertrouw fire was reported at 12:42 on the 24th and continued to burn for days. It burned over the Groenlandberg, into several wine estates and fruit farms, threatened at least two communities and two large packing plants, and cost millions of Rands to suppress (and much more in damages – both ecological and economic losses caused by the fire). By 30 January, the fire was brought under control, with around 9,500 hectares lost. The cause of this fire is still under investigation, but lack of land management made this difficult to control and extinguish. Several agencies, including the SANDF worked this wildfire.
(These areas were identified prior to the 2018/19 fire season. We will now build on these identified areas for the next fire season.)
Communications platforms: A look back
MEDIA ARTICLES INCLUDE:
Times Live
The Times
News24
Die Burger
Independent Online
Cape Times
The South African
The Herald
Theewaterskloof Gazette
Suidernuus
Smile FM
The Newspaper
Cape Town etc.
Eyewitness News
eNCA
Voice of the Cape Radio
com
Village News
News 4 Europe
Maroela Media
FACEBOOK ENGAGEMENT
3.2m Impressions
36.1k Engagement (26.6k reactions, 3.2k comments, 6.1k shares)
8063 Clicks
Thank you to all these donors who supported our
fire-fighters and our fire-fighting coordination efforts
during the past fire season.
A special thank you to all the communities who
donated food and refreshments during the year.
Looking Forward
Preparing for the 2019/20 fire season
Preparing yourself for the next fire season:
Fire Management Unit leaders: Your responsibility
Now that we're in our winter planning phase, it's your job to meet with your FMU members. Together you need to assess:
Risks in your area, and mitigating actions already undertaken to deal with these risks.
Risks in your area, and actions NEEDED to mitigate the risk.
Risk in your area for which you need additional help.
The self-audit checklist register. Thank you to all our members who completed the self-audit last year. For those who haven't yet, please complete it and keep it for your records.The checklist is available here.
The winter planning process for 2019/20 will be sent to you shortly by email.
Here's your training schedule for 2019:
Basic Fire-Fighting & Fireline Safety Training:
Provided by goFPA, per municipal area (starting closer to the start of the next fire season).
Courses presented by the applicable Fire Services. 
Staff who work near the fireline should attend.
(We'll send out more information on this training as we approach the next fire season, in October 2019.)
ICS100 (Incident Command System) and Divisional Supervisor Course: 
Landowners and managers should attend, to better understand where they fit into the system used by the Fire Services. 
We'll send out invites by email for these courses – so keep an eye on your inbox. 
Should you require the assistance of invasive alien clearing teams, please contact Louise. Email: manager@overbergfpa.co.za
We recommend using registered contractors: 
Click here to find out more about the training service providers.
ENVIRO WILDFIRE SERVICES
VULCAN WILDFIRE MANAGEMENT

NCC ENVIRONMENTAL SERVICES

RORY ALLARDICE ENVIRONMENTAL
Our 2019 Board has been elected. The new Board members are: 
Member
GERHARD DE WET
(Baardskeerdersbos FMU leader and Wheat/Fynbos farmer)
Vice-Chair
CHRIS MARTENS
(Sondagskloof FMU and conservationist)
Member
JO NESER
(Executive at Cliffe Dekker Hofmeyr, Olive farmer – Van Der Stel Pass area)
Member
ALBRECHT SMUTS
(Ruggens FMU leader and Wheat farmer)
Member
GUY BROOKE-SUMNER 
(Sondagskloof FMU leader and Fynbos farmer)
Member
JOHAN TALJAARD
(Agulhas National Park, Slanghoek)
Municipalities, Parastatals e.g. Eskom, Telkom, State land
R 2 247
All other
R 562
Land owner and governmental conservation areas
e.g: Cape Nature, OTB. Farm portions with the same land manager/owner/lessee and trading under the same name are recognized as one member and therefore pay one collective fee.
Industrial or Developments (Gated estates & Resorts)
Parastatals : Eskom, Telkom, Sanral, Transnet
As per agreement. Comment: This might be subjected to certain Umbrella negotiations
Wildfires affect communities in the Overberg in many ways. We've seen loss of lives, and of course, loss of livelihoods. The cost of fire suppression, and the damages and losses suffered also come at a heavy price. We can work even harder to prevent and suppress wildfires. But we can ONLY do this together. And I say with confidence that the Overberg has seen a huge increase in responsible and accountable behaviour by our landowners. These are hardworking members who stand together and work hard during fires, and who develop smart plans to reduce their fire risks before fire season starts. Thank you!
A final note: Financial self-sufficiency is hard to achieve and maintain, especially when having to buy capital items. We would like to recognise and thank the Overberg District Municipality and Western Cape Disaster Management Centre, for the continued support during the past season. And all our donors, who gave time, money and in-kind support, to help us through the most challenging fire season we've experienced to date.
We now look forward to the 2019/20 fire season – to ensure that together, we are as READY as we can be.
Louise Wessels
Manager: Greater Overberg Fire Protection Association
Tel: +27 (0) 28 425 1690 | Fax: +27 (0) 86 585 2348 | Email: info@overbergfpa.co.za
Address: Fire Station, Long Street, Bredasdorp