Fire is everybody's fight. Help us prevent and control wildfires.
FARM & LAND MEMBERS
If you are a farm owner or a landowner in the Overberg, you can become a goFPA member. Membership is voluntary for private landowners, and when you sign up, you'll receive all the support the goFPA team offers our members – through integrated fire management assistance. There is a joining fee and annual fee to join as a member. Government departments, municipalities and conservation authorities who own land in the Overberg must become goFPA members.
Members will form part of a Fire Management Unit – a grouping of landowners who will manage fire across their units together.
WHAT'S HAPPENING IN OUR WORLD
The Overberg region has been hard hit by three major fires in the past week. Two are still burning, with teams still fighting to suppress both fires. The fire on the Denel Overberg Test Range started on Friday 24 February. The fire was ignited following standard missile testing …
The Overberg has experienced 25 major fires since the start of December. Fire-fighting teams battled many of these fires for more than a week. The goFPA is so grateful to everyone who helped to bring these fires under control. from the landowners and farmworkers …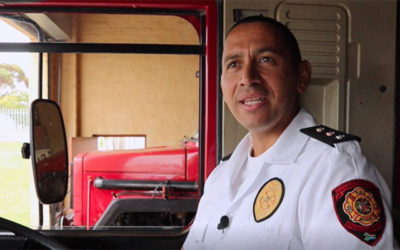 Meet Angelo Aplon, the Station Commander for the Overstrand Fire and Rescue team, based in Hermanus. Angelo believes the key to fighting wildfire is trust between fire-fighting teams and landowners. And the level of …
HOW TO GET INVOLVED
Help us to prevent wildfires. Make a donation, and watch how your money helps to prevent and suppress wildfires in the Overberg.
HOW TO DONATE:
SOUTH AFRICA
Donations are made through the secure PayFast system.
HOW TO DONATE:
INTERNATIONAL
Donations are made through the secure PayPal system.
SNAPSCAN